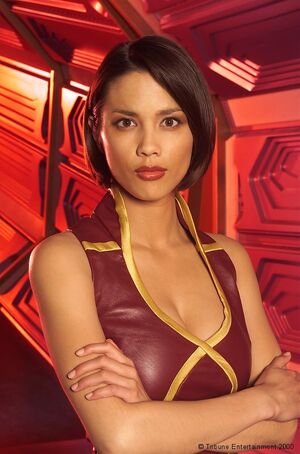 Andromeda (Rommie)
Series/Class/Type:
Android
Warship Avatar
Gender:
Female
Creation Date:
–
Creator(s):
–
Place of Design/Creation:
–
Height:
–
Length:
–
Width:
–
Weight:
–
Hair Color:
Varying
Eye Color:
Varying
Systems Configuration:
–
Level of Systems Control:
–
Systems Main Function/Duty:
Command Ships Control Core AI
Ships Posting:
Andromeda Ascendant
Rank:
–
Primary Power Systems:
–
Main Propulsion Systems:
–
2ndary Propulsion System:
–
Maximum Velocity:
–
Particle Beam Weapons:
2 Built in Force Lances
Projectile Systems:
–
Heavy Weapons Systems:
–
Hand Weapons:
–
Energy Manipulation:
–
Affiliation:
Systems Commonwealth
Andromeda (Command AI Series-1011023-1285) or Rommie for short is the Central Command AI Control Core System for Systems Commonwealth Command Flag Warship Andromeda Ascendant.
Ad blocker interference detected!
Wikia is a free-to-use site that makes money from advertising. We have a modified experience for viewers using ad blockers

Wikia is not accessible if you've made further modifications. Remove the custom ad blocker rule(s) and the page will load as expected.